2023 NEAS Professional Development Schedule
Please see below for the list of professional development offerings in 2023. There is a culmination of offerings including webinars, workshops, face to face events and online material. There is something for everyone!
You may also view recordings of historic PD events such as webinars, workshops and masterclasses via NEAS Online.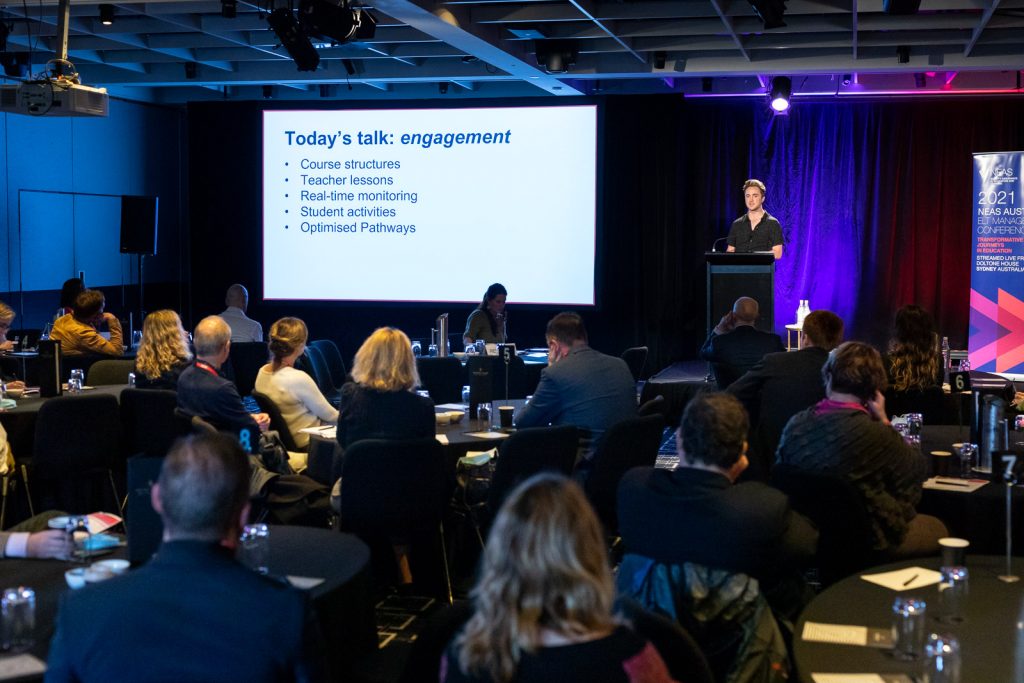 Type
(Online/F2F/
Catchup)
Date
Title / Topic
Facilitator
Register / Access
Webinar
Online
10 Feb-11:30-1:00
Communities of Practice: Research in Quality Assurance

This COP is for ELT professionals who would like to learn more about research in ELT. This COP provides an overview of the benefits of engaging in research and provides participants with practical tasks to encourage and support engagement in research. Topics in this area include the continuum of research and the role of quality assurance. The NEAS Endorsed Master Practitioner badge is awarded to industry professionals who undertake an area of research of their own specialist interest.

Convenor: Professor Thomas Roche,
Southern Cross University College
Webinar Recording

Workshop
F2F Melbourne

18 Apr-4:00-5:30
Communities of Practice: Arts Based Pedagogy

This COP is for teaching professionals who would like to embed the arts and drama into their teaching repertoire. It introduces the benefits of alternative teaching methods in the ELT classroom and provides participants with a supportive structure to begin their journey into the world of the arts in ELT. Topics of discussion in this COP include the power of drama in teaching, reflective self-assessment and professional development opportunities in this space.

Convenor: Andrea Pugh
Workshop Recording
Webinar
Online
6 Apr- 3:30-4:30
Understanding the NEAS CPD Framework

NEAS PD is accessible to anyone in the ELT community. NEAS supports and encourages continuing professional development (CPD) by assigning CPD points to each of its PD activities.
Earning CPD through a number of the activities through NEAS validates quality learning for teachers, managers and ELT professionals. Micro credentialing for ELT professionals and how to access and share your online badges will be explained during this webinar.

Rima Ibrahim
Webinar Recording
Workshop
Online
18 Apr 4:30-5:30
Ukraine Workshop Series
NEAS is presenting this workshop in partnership with GoGlobal, which is an initiative of Global Office NGO aimed at promoting language learning and the volunteer movement in Ukraine. It is GoGlobal's mission to initiate and implement projects that promote dialogue between Ukraine and the world and create suitable conditions for educating a new generation.
The workshop will be centred around trauma-informed practice and teaching, maintaining student and teacher motivation and mental health, as well as building resilience in ELT in times of crises. By sharing teaching and learning innovations and quality assurance activities of High Schools, Vocational Colleges, Universities, and English Language Centres, that are operating in either Australia or Ukraine we can promote the maintenance of equilibrium in unstable circumstances.

Dr Patrick Pheasant
Workshop Recording
Conference
F2F + Online
3,4 &5 May
NEAS Australia Management Conference

Theme: English Language Teaching – The Profession, The Professional, Professionalism
Conference Recordings
Webinar
Online
28 Sep 3:30-4:30
Industry Webinar Series: Cambridge

Empowering Achievement: Exploring the Role of Assessment in Teaching and Learning
Examinations and qualifications, whether loved or loathed, play a crucial role in the field of education. However, it is important to acknowledge that not all assessments are created or recognised equally. In this session, Allen will explore the characteristics that define a good assessment, illustrating how well-designed qualifications and exams can positively impact learning outcomes while simultaneously fostering student development, comprehension, and motivation. Additionally, the presentation will underscore the vital role of teachers in cultivating a classroom environment where students perceive assessment as positive reflections of their growth, empowering students to proudly showcase their accomplishments to the global community and explore the opportunities that these achievements unlock. Finally, Allen will be joined by Carmen who will showcase how a proactive approach in building key recognition with important stakeholders can help elevate students' learning outcomes to new heights.
Allen Davenport & Carmen Le
Register Free
Webinar
Online
5 Oct 3:30-4:30
Industry Webinar Series: Duolingo
The Duolingo English Test revolutionises language assessment for the modern era. This innovative test is brought to you by the world's largest education company Duolingo, whose 500 million users undertake more than a billion lessons every day. The test is a paradigm shift in secure, efficient, and cost-effective English proficiency evaluation and is now trusted by almost 5000 institutions worldwide. Seamlessly blending the world's best AI technology with psychometric and linguistic excellence, the Duolingo English Test redefines language testing accessibility. It's not just a test; it's an embodiment of Duolingo's mission to deliver world-class education to all corners of the globe.
This session will be facilitated by the Head of Security and the Head of Assessment Communication for the Duolingo English Test and provide an in-depth and comprehensive insight into the test design, validity and security.



Basim Baig
Dr Masha Kostromitina
James Holden
Register
Free
Webinar
Online
19 Oct 3:30-4:30
Industry Webinar Series: Pearson

More than 140 million users worldwide trust Pearson products and services. Pearson offers Assessment & Qualifications, Virtual Learning, English Language Learning, Workforce Skills and Higher Education services.

TBA
Register
Free
Webinar
Online
2 Nov 3:30-4:30
What's New in IELTS

IELTS is the worlds' most trusted high-stakes English language assessment. Millions of tests are taken each year by people seeking to demonstrate English language proficiency for education, migration or employment. Join us for this webinar where we will discuss important updates in IELTS. This will include a review of IELTS Online and IELTS One Skill Retake, covering what it means for your students, applicants and organisation as a whole. We will also touch upon the recent publication of the full IELTS Writing Band Descriptors and Key Assessment Criteria, following a review to ensure they remain fair, transparent and fit for purpose.
Stephanie Bethencourt
Register
Free
Webinar
Online
16 Nov 3:30-4:30
Industry Webinar Series: Allianz Partners

Allianz Partners has become one of Australia's leaders in assistance. Providing a range of services and solutions, they thoughtfully navigate complex situations and expertly assist people in need through specialist support, advice and action.

TBA
Register
Free