Cambridge Assessment English is here to support every teacher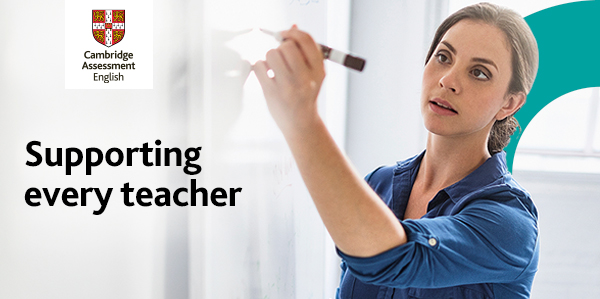 Cambridge Assessment English is a part of the University of Cambridge, we help millions of people learn English and prove their skills to the world. We bring learning, teaching and assessment together in qualifications that are globally recognised as a mark of excellence: accepted by over 25,000 leading companies, universities and governments worldwide.
The spread of COVID-19 around the world is having an impact on education, and we are committed to supporting teachers and learners to carry on learning English and preparing for their qualifications. We have a wide range of resources to help you quickly access materials that you need to support your students in these challenging circumstances.
To help all the teachers, we have provided access to online courses, guides and webinars for teachers running courses online. Just a few of the items available to you for free include:
A four week online course on teaching English online. During the 4-week course teachers will learn how to plan and deliver effective online English lessons
A series of six practical guides on running courses online aim to provide support to teachers of English with no experience of online teaching
Over 70 webinars, each lasting 1 hour, to cover multiple areas of English language teaching
And much more…
To keep your students busy and to make learning fun, we have also included a wide range of resources that is targeted for English language students, from children to adults.
Quiz your English is a quiz game where players can compete with others around the world to practice vocabulary and grammar
More than 80 free online activities to help teenagers and adults practise English, filterable by skill, time and level of ability
Write & Improve is a free service for learners of English to practise their written English. Learners submit written work and receive feedback in seconds, covering spelling, vocabulary, grammar and general style
Speak & Improve is a research project developed with the University of Cambridge to help learners with a tool that allows them to practise their spoken English
Exam Lift is a new mobile app which helps you prepare for your B1 Preliminary for Schools exam. The daily activities encourage you to practise your English in all four language skills – reading, writing, listening and speaking
Test your English online tests are quick and free online tests for four different groups of learners: Young Learners, General English, For Schools English, and Business English
Explore our exam preparation materials and free digital resources that you can easily share with your students and support you in classes. You can also join our community of teachers on Facebook for daily tips and activities at https://www.facebook.com/CambridgeEnglishTeaching/.
We encourage you to share these resources to ensure everyone is supported in these challenging circumstances.