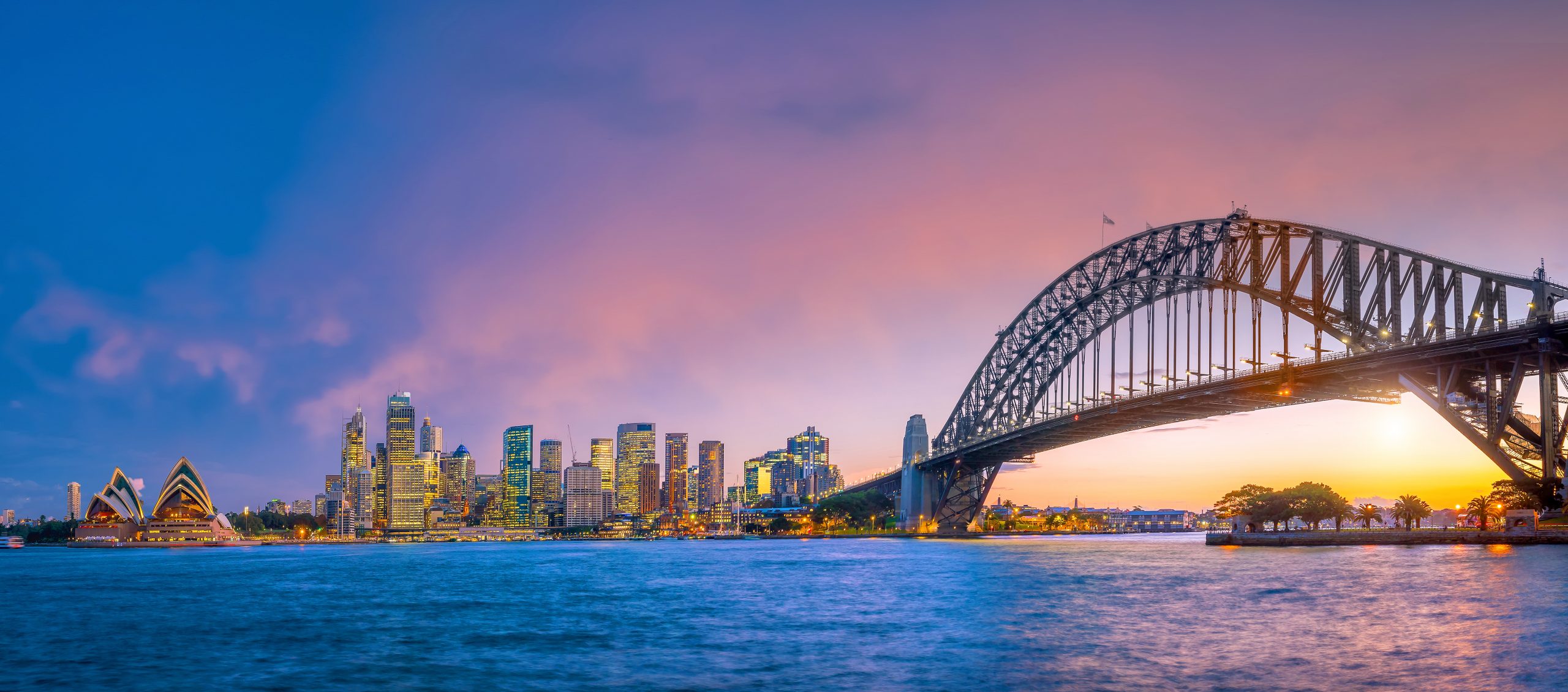 On this page, you will find information about:
Conference Venue
This year's conference venue will be the award-winning Aerial UTS Function Centre.
Located in: University of Technology Sydney.
Address: Building 10, Level 7/235 Jones St, Ultimo NSW 2007.
Aerial UTS Function Centre Secured the Finalist Position in 2023 Restaurant & Catering Hostplus Awards for Excellence – NSW Read more about the awards here.
Aerial UTS uses vegware packaging throughout Aerial Function Centre. Vegware creates disposable catering supplies made from plants.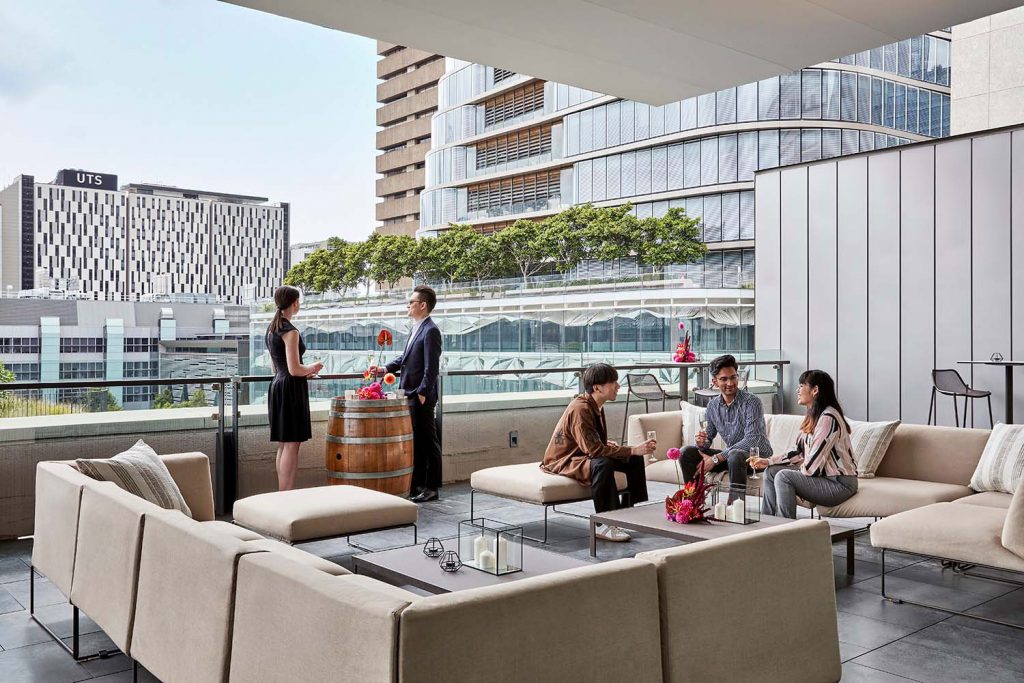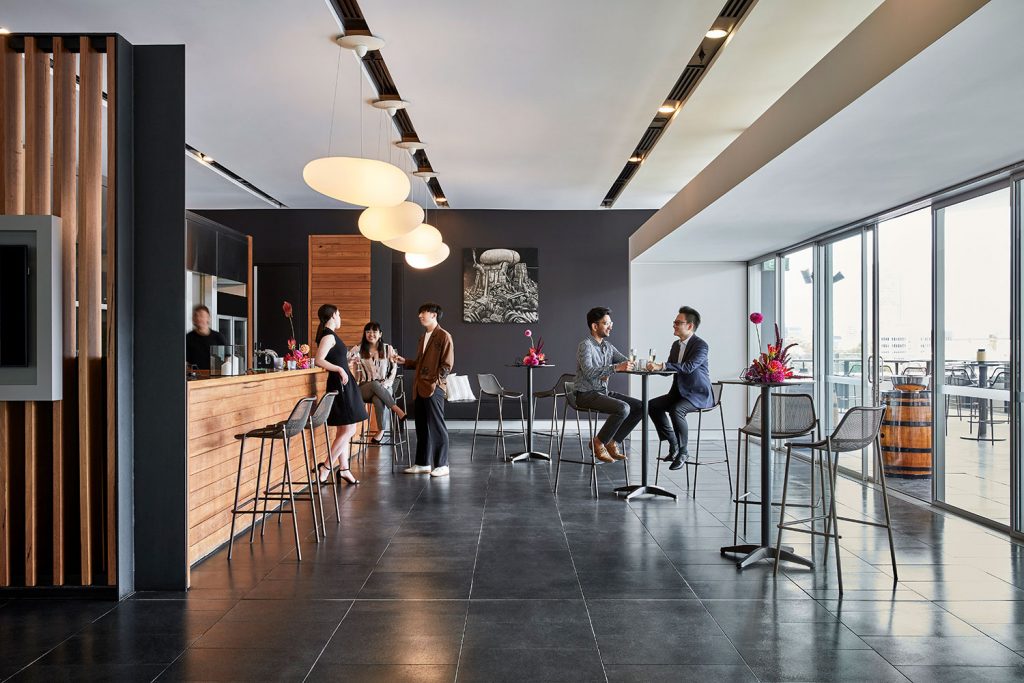 Travel
Flying to Sydney is easy and there are many international and domestic flights arriving daily provided by the following carriers.
International
Air New Zealand
www.airnz.com.au
Qantas
www.qantas.com.au
Virgin Australia
www.virginaustralia.com
Domestic
Jetstar
www.jetstar.com
Qantas
ww.qantas.com.au
Virgin Australia
www.virginaustralia.com
Travel Arrangements
Travel Insurance
The conference managers recommend delegates purchase travel insurance including cover for non-refundable registration fees. The conference managers do not take any responsibility for attendees failing to insure. Delegates must be appropriately covered for travel insurance, including but not limited to repatriation and medical expenses, as well as public liability insurance.
Visas
All travellers to Australia, other than Australian and New Zealand citizens, are legally required to hold a valid visa or electronic travel authority (ETA). It is your responsibility to ensure documentation is correct and completed before you commence your journey. Delegates must register for the event before lodging their visa/ETA application. Following your registration and payment, you will receive an acknowledgement letter. We recommend you apply for your visa/ETA at least 10 weeks before you travel (earlier in some cases). For more information, contact your nearest Australian Embassy/Consulate or view the Australian Department of Home Affairs website
Sydney Airport
For more information on Sydney airport, including maps, facilities and duty free shopping, please visit their website.
Transport
Taxis
Taxis have their own taxi ranks at the airport or can be hailed from the street. Each terminal has its own sheltered taxi rank with supervisors on hand in peak hours to ensure a smooth flow of taxis for travellers. Expect a return taxi fare of around AUD50 for a taxi ride between the CBD and Sydney Airport.
Public Transport
Most of Sydney's main attractions are within walking distance to the conference venue, however public transport is easily accessible and affordable. The ferry is also accessible, and will take you to Circular Quay and to other locations along the harbour. For transport information and timetables, please visit the Transport NSW website.
Parking
Parking is available University of Technology Car Park – Building 10, Thomas Street, Ultimo.
Accommodation
Here are some accommodation options for the 2024 NEAS Management Conference. Both are located within a short walking distance.
For any further information relating to the conference venue, accommodation or travel enquiries, please contact the NEAS Conference Secretariat on conference@neas.org.au
Enquires and Help
For all venue and online platform enquires please contact the below:
NEAS Conference Secretariat

109/59 Great Buckingham Street, Redfern NSW 2016 Australia
Toll Free: 1800 898 499 (within Australia)
Telephone: +61 2 9698 8055 (International)
Email: conference@neas.org.au
Online Ticket Information
The 2023 NEAS Management Conference will be streamed live from Doltone House. Using OnAIR, a dedicated hybrid conference platform, online conference participants will enjoy an experience second to none:
Watch presentations and videos from international education experts.
Use our meeting platform to network and pursue new opportunities.
Visit the virtual exhibition and engage with a range of suppliers supporting the ELT sector with innovative products and services.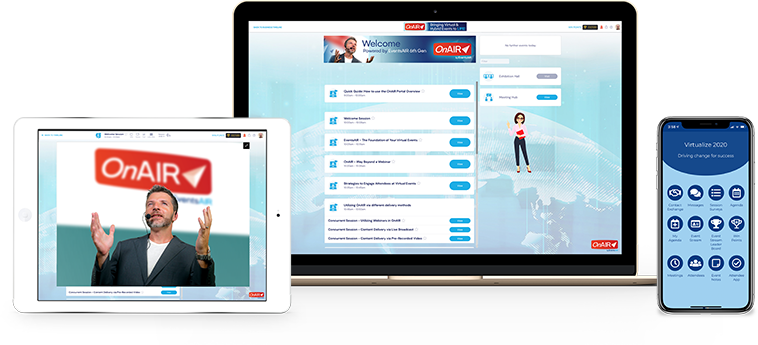 Program Session Location
In our Program use this key to understand where a session will be held.

Virtual social event of the conference that both face to face and online participants can access during the conference.
North Wharf Room
Location at Doltone House Sydney where session will be live
South Wharf Room
Location at Doltone House Sydney where session will be live
Online Only
Presentations that are only available to online ticket holders (or face to face guests post conference)
Virtual Conference features:
Connect and learn from our sponsors and exhibitors via the virtual exhibition – the exhibitors will be available during the dedicated sessions, however you can also visit them at any time to review resources, create contacts and set up appointments.
Connect with other virtual attendees via the meeting hub – you can message and video call with them throughout the Conference and export your contacts list at the end.
Win prizes by completing various challenges or goals set up within the platform.
View on-demand content – prior, during and post Conference additional NEAS produced content is available to view at your own pace.
Technical Recommendations
As this may be the first time you have used this platform, we strongly recommend logging on at least 15 minutes beforehand to ensure you can access the meeting and to familiarise yourself with the platform before the Conference commences.

It is also recommended to use headphones for the duration for the meeting. Please ensure these are plugged in before you log into the platform.

You will be asked to check your setting prior to logging in, please ensure all the prompted checks are completed and set up so that your settings will be working within the platform. If you are having trouble completing the checks please contact Conference Secretariat on the contact number below.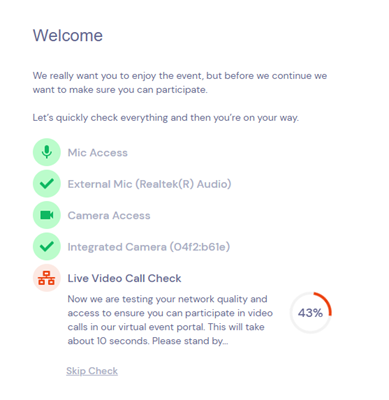 You will also be asked to complete your profile the first time you log into the platform. You can put as much or as little information in this section as you wish.

Please note any phone/tablet/computer will be able to access the Conference, however, it is recommended to join the Conference on a computer using Google Chrome internet browser.

A solid internet connection is recommended to ensure you do not experience any delays in vision or sound.

Frequently Asked Questions
Video Not Playing? Make sure you are using an up-to-date web browser and ensure you are using Chrome as your web browser. Internet Explorer is not recommended.
As many other viewers are joining the meeting live, you may need to refresh your web page if you are still having trouble.
Audio Not Working? Ensure the volume is turned up and the speakers are turned on. Play a YouTube video or another piece of content containing audio to ensure you have sound engaged on your computer or device.
Further Questions? If you require any technical support during the meeting, please click on the "Live Support Hub" icon on the top right corner of the meeting portal and our team will be able to help you out.
---
Ticket sales for the 2024 NEAS Management Conference are now OPEN! Click below for more ticketing information.
---
Call for Abstracts: NEAS 2024 Management Conference Presenters
NEAS invites professionals and experts in the English Language Teaching (ELT) field to express their interest in presenting at the NEAS 2024 Management Conference.
---
2
day LIVE event
up to
20
hrs
CPD accredited
content
On-demand
content
Post-conference
on-demand access
to content
40+
speakers
Community
Virtual events,
interactive content
and networking
20+
partners &
exhibitors
Conference 23 Photos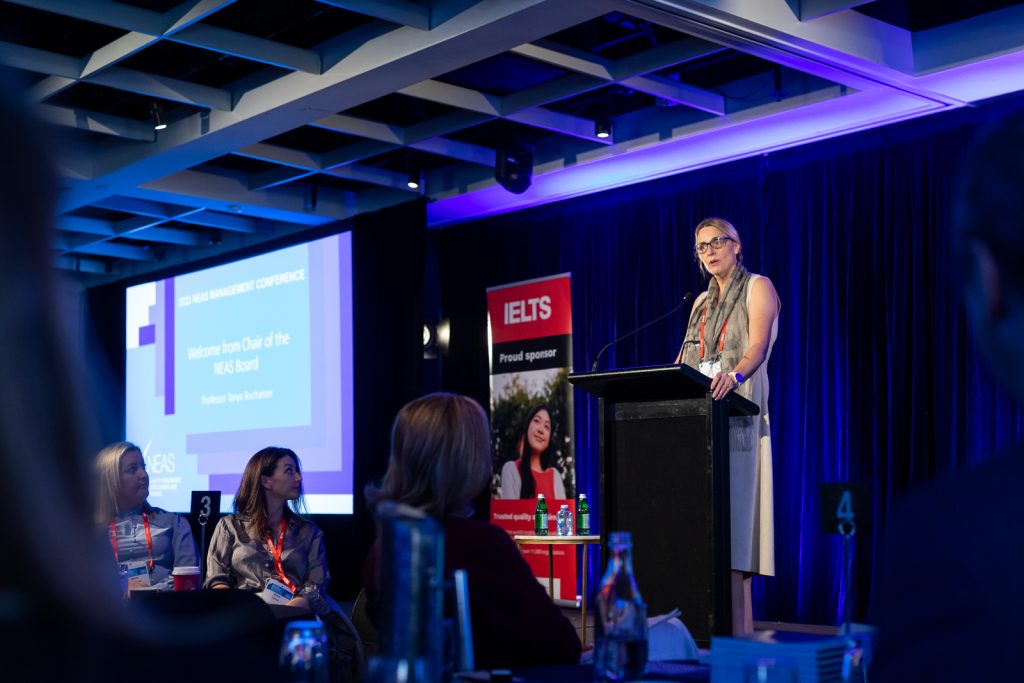 Download the 2024 NEAS Management Conference Flyer (PDF)
2024 Conference Quick Links
Want to know what the NEAS Management Conference is like?
Check out the presentations from the 2023 Conference on NEAS Online!