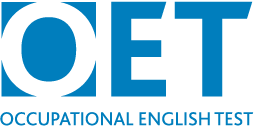 The Occupational English Test (OET) assesses the language proficiency of healthcare professionals seeking to register and practise in an English-speaking environment. It helps regulators, employers and educators select healthcare professionals with the right level of English proficiency to deliver safe and high-quality care, by optimising communication with patients, carers and colleagues.
Underpinned by Cambridge English and partnering with the Australian Research Council and University of Melbourne, OET has featured prominently in research literature relating to language testing in specific-purpose contexts.
OET comprises four sub-tests (writing, speaking, reading and listening) and is available monthly in 40 countries. It assesses the English language skills of 12 different health professions, from nursing and medicine to dentistry and optometry.
OET has developed a Preparation Provider Programme (PPP) to give OET preparation providers the knowledge and tools needed to run high quality OET preparation courses. It is designed for education institutions and teachers currently preparing students for OET, or those interested in starting a new course.
Preparation providers who undertake the Programme are supported fully throughout the process and are listed on the OET website upon successful completion.
Those providers who successfully complete additional online training are awarded Premium Provider status and receive a range of benefits, including a new library of sample materials, use of the OET Premium Provider logo, and access to a toolkit of marketing materials.
Phone: +61 3 8658 3963
Email: david.wiltshire@oet.com.au
Website: occupationalenglishtest.org