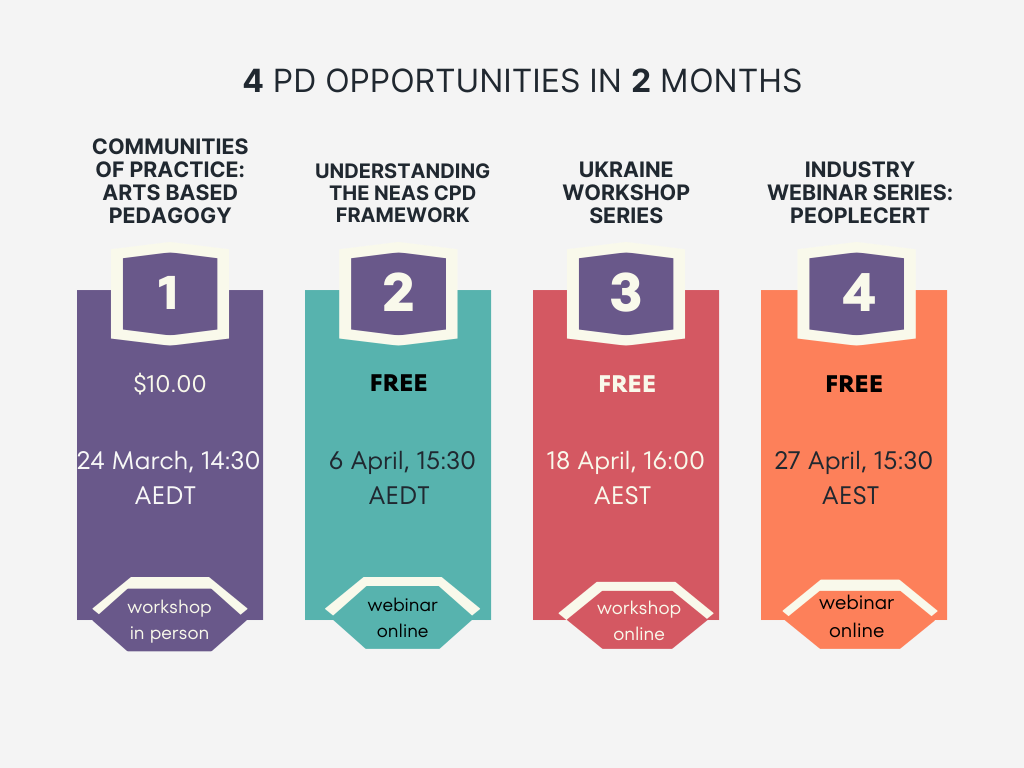 Communities of Practice: Arts Based Pedagogy 
This COP workshop introduces the benefits of alternative teaching methods in the ELT classroom. Topics of discussion in this COP include the power of drama in teaching, as well as the use of drawing and puppetry. This workshop features NEAS' own Dr Pheasant and Ms Lechte as presenters and over 30 participants have already signed up – it's promising to be a day of valuable, hearty interaction!
Understanding the NEAS CPD Framework
NEAS supports and encourages Continuing Professional Development (CPD) and
earning CPD points through NEAS PD activities validates quality learning for teachers, managers and ELT professionals. Micro-credentialing for ELT professionals and how to access and share your online badges will be explained during this webinar too.
NEAS is presenting this workshop around trauma-informed practice and teaching, maintaining student and teacher motivation and mental health, as well as building resilience in ELT in times of crises.
Maintaining resilience in students is crucial for their academic success and personal growth as it helps students to bounce back from setbacks, adapt to new situations, and manage stress effectively; to stay motivated, persevere through challenges, and maintain a positive attitude. Building ongoing resilience will enable students to cope with and overcome obstacles and succeed in their academic and personal lives. It is the foundation for a successful and fulfilling future, and educators should prioritise resilience-building in their teaching strategies.
Industry Webinar Series: PeopleCert
PeopleCert delivers exams in more than 200 countries, in 25 languages, through its state-of-the-art assessment technology, enabling professionals to reach their full potential and realise their life ambitions through certifications and learning. This webinar will explain how this assessment technology works and why it is so successful.
March 2023