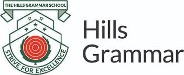 NEAS congratulates Hills International Education (HIE) for completing a successful Quality Review activity!
Hills International Education is the ELICOS centre for international students at The Hills Grammar School, located in a bushland setting in the Hills district, 45 minutes north of the Sydney CBD. The HIE rooms are set within the layered campus, close to all amenities, including a well-stocked canteen. Set over 18 hectares in a natural bush setting, the HIE students have access to all facilities including fitness centres, a gym and performance spaces.
The centre delivers a High School Preparation course (Elementary to Upper-Intermediate) over 10 to 40 weeks. HIE's students study 20 hours of English per week and are integrated into the mainstream for mathematics, PE and their "well-being" program. Students generally join the program in Years 7-9 allowing them to reach the required level for entry into the higher years at the school.
Students in the focus group expressed their satisfaction with their courses and the welfare support the school provides as they settle into their studies and life in Australia. Students enjoyed the opportunity to be assigned a 'buddy' to support them on their first day at school
Teachers at Hills International are highly qualified and experienced and are aware of their students' needs in preparing them for future studies. The centre and the wider school have an effective strategic planning process that includes stakeholder focus groups, and the involvement of teachers, students, staff and parents. Staff at the HIE centre contribute with their knowledge of student care initiatives and the planning for international student enrolments.
02 February 2023