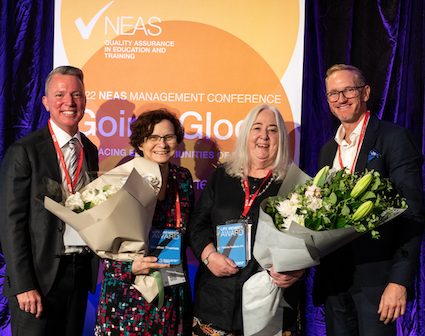 We are thrilled to announce that this year at the 2023 NEAS Management Conference we will be presenting awards to more than 25 institutions! There will be two Award Ceremonies – one on Thursday afternoon, before the Cocktail Hour, and the other on Thursday evening during the Gala Dinner.
The first Awards Ceremony, sponsored by Learning Vault will be held on Thursday 4 May at 16:40 at Doltone House. Award categories are: Quality Provider Award – New Member (National and International); Quality Products & Services Award; Education Agent Award; Premium Product Award; Online Delivery Award and NEAS Master Practitioner Award.
The Gala Dinner special Awards Ceremony, starting at 18:00 will celebrate this year's
NEAS 25 Year Endorsement Award
and the coveted
NEAS Lifetime Award
For last year's award recipients please see their names in lights here. Most excitingly, we are looking for YOUR nominations for the NEAS Lifetime Award. This prestigious award goes to the person who has shown distinguished, meritorious, and sustained service to the ELT Sector and to NEAS. To nominate the person who you think most suited to receive this award, you must be a Full or Associate NEAS member and the nominee cannot be a NEAS Board of staff member. 
To nominate, please complete the attached JotForm and submit it by Friday 3 March 2023. 
February 2023