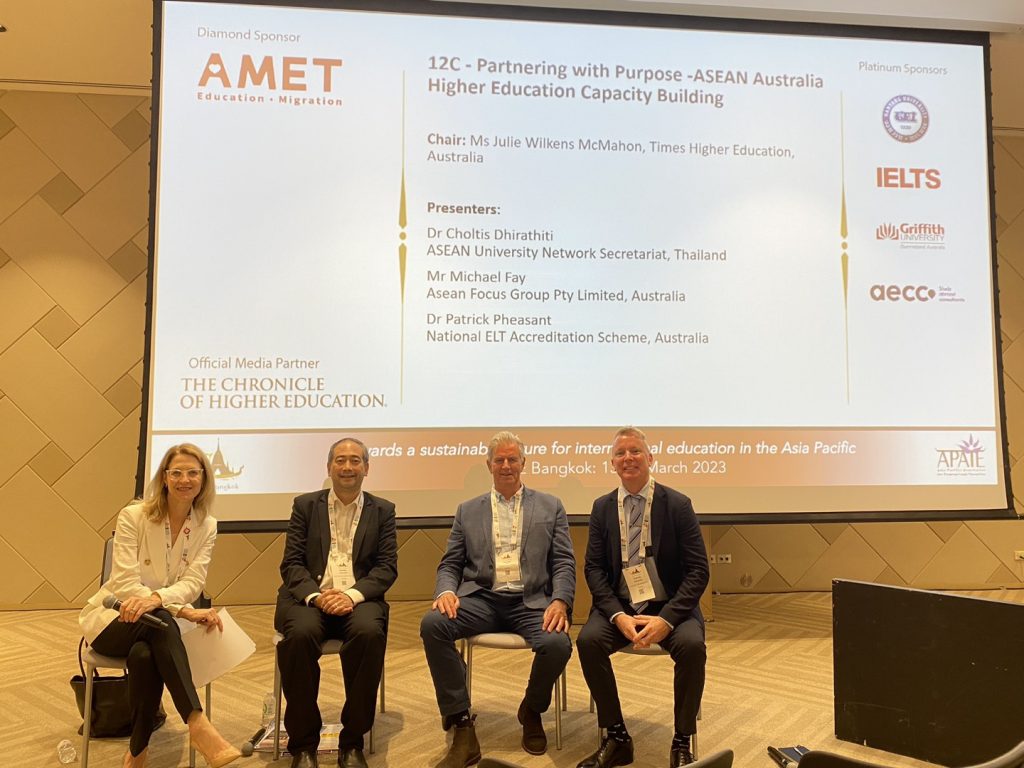 Framed around the UN's Sustainable Development Goals, the conference focused on students and the profound impact international education has on their lives and on communities.
NEAS CEO Dr Patrick Pheasant was part of a panel discussion entitled Partnering with Purpose – ASEAN Australia Higher Education Capacity Building during which he and the panel discussed the benefits of ASEAN and Australian building effective and purposeful partnerships that addresses regional higher education sector priorities. The panel was chaired by Julie Wilkens MacMahon, Regional Director (APAC) Times Higher Education, Australia and joining Patrick were Michael Fay, AAED and Dr Choltis Dhirathiti, Executive Director ASEAN University Network (AUN) Secretariat, Thailand.
Our involvement was best summed up in Claire Field's article in the Campus Morning Mail of 22 March 2023 where she said, "NEAS was another Australian organisation which stood out at the conference. They are working with the ASEAN Universities Network to quality assure English language teaching across the region and have more recently started assisting English language teachers in Ukraine". You can access the whole article here. Claire also conducted a podcast interview with Dr Pheasant while in Bangkok, which you can access here. In both cases she referenced the Ukraine Workshop Series as being an exciting and worthwhile initiative.
Similarly, the higher education editor, Tim Todd, of The Australian Higher Education Supplement of 22 March 2023 also reported on the buzz around the Ukraine Workshop Series, claiming that "Thousands of Ukrainian English language teachers stand to benefit from a series of online workshops being offered free by Australian education quality assurance group NEAS". He quoted Dr Pheasant as saying, "While they (Ukraine) rebuild the education system, … a big part of it is what Ukrainian Universities can do … to attract collaboration, research partnerships and international students." This is why NEAS Australia member support for this project is important.
March 2023