There may be just five weeks before the opening of this year NEAS Management Conference, but we are by no means idle while we wait for the date. As featured in last week's NEAS News we have four PD events over the next two months, all of which will be informative and engaging.
Monday (20 March 2023) marked the grand opening of the Ukraine Workshop Series.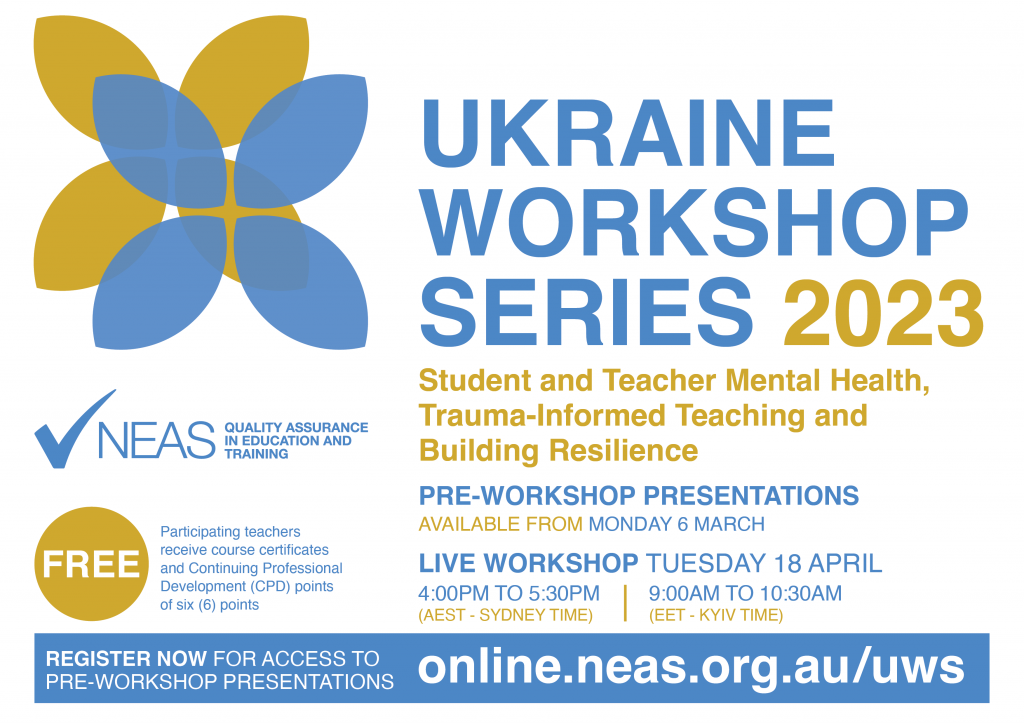 We are truly thrilled and proud to be bringing you this Workshop Series that features SEVEN pre-workshop presentations and will be followed by a live Zoom Workshop with a discussion Panel on Tuesday 18 April from 9:00 am to 10:30 am (Kyiv Time) 4:00 pm to 5:30 pm (Sydney Time) and will feature keynote presenters sharing their expertise and practical techniques. Joining the NEAS CEO, Dr Patrick Pheasant, on the Panel will be the Ukraine Ambassador His excellency Vasyl Myroshnychenko, Ms Liubov Zaliubovska-Head of Education at GoGlobal NGO as well as teachers and leaders from the ELT sector.  
The workshop focuses on two themes:
1. Trauma informed practice and teaching– thisrecognises the pervasive impact of trauma on individuals and communities. By prioritising safety and trust in a supportive learning environment, teachers can empower students to take agency of their learning. Through collaborative engagement in the learning space, students and teachers can promote healing, resilience, and growth.
2. Student and teacher mental health and building resilience in times ofcrises – it is important to maintain teacher and student health during times of crises and this can be achieved by fostering a sense of community, promoting coping skills, and creating a supportive learning environment. Encouraging individuals to adapt and thrive despite challenges leads to resilience. In this workshop, some building blocks will be provided to highlight the importance of self-care, healthy habits, and access to mental health resources.
March 2023