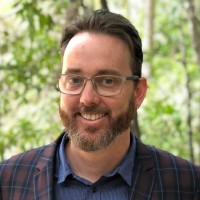 Thomas is the Dean of SCU College (Direct Entry and General English ELICOS, Enabling and Diploma courses) and Pro-Vice Chancellor (Academic Quality) at Southern Cross University. He is a specialist in the design, delivery and management of English language and higher education pathways, empowering students from culturally and linguistically diverse backgrounds gain access to and succeed in university study.
His more than 20 years of post-secondary education professional experience, in Australia and abroad, demonstrates a long-standing commitment to ensuring that English language courses deliver an inspired experience for students. While much of his professional experience has been working with University students studying academic English, he has also worked designing and delivering English courses for recently settled migrants from CALD backgrounds, work-and-holiday travellers, as well as primary school pupils' Study Tours. His research interests are in applied linguistics and he has published on English for Academic Purposes, vocabulary knowledge, language testing, pronunciation teaching and digital literacy.
In 2018-2019 he co-led the University English Centres Australia (UECA) national initiative: the External Referencing of the ELICOS Standards and International Education [ERESIE] Project. 20 Australian universities participated in the project to benchmark ELICOS program outcomes. In 2020 he was the UECA Assessment Symposium Chair and host. He is a member of the Australian Government's TEQSA Expert Register for ELICOS and international education. He is well known for his collegiate approach and silly sense of humour. He would like to represent English Centres on the NEAS Board, advocating for quality outcomes for their students, staff and communities.