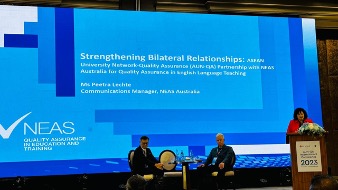 The NEAS Communications Manager, Peetra Lechte, presented last week at the ASEAN University Network – Quality Assurance (AUN-QA) conference in Bangkok, with a focus on strengthening bilateral relationships between the ASEAN region and Australia.
With the theme: Driving True Quality in Education: AUN-QA International Conference 2023, the AUN-QA International Conference 2023 took place on 6 and 7 September 2023 in Bangkok, Thailand. This conference provided the opportunity to gather practitioners of quality assurance from around the world with a drive toward true quality in education and real innovative changes in Quality Assurance. With international speakers and experts, there was a plethora of excellent practices, experiences, and discussions. AUN-QA is keen for knowledge, practices and experiences to be accessible to everyone, as it encourages all universities, not just in ASEAN, but across the world to improve their QA processes and improve education quality for the betterment of students.
NEAS wholeheartedly supports Quality Assurance both nationally and internationally and encourages all our members to seek international benchmarking.
September 2023