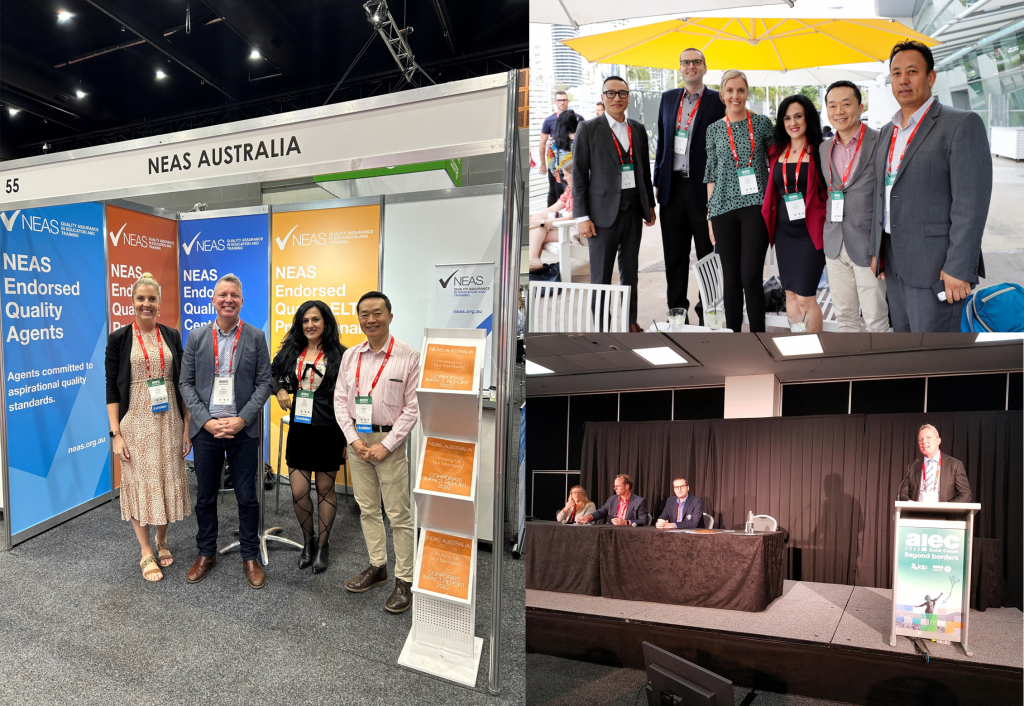 The 35th Australian International Education Conference was held on the Gold Coast and online on 18 to 21 October 2022. Excited to reunite in person, the event reconnected over 1,750 colleagues in the international education sector from Australia and around the world. AIEC featured captivating learning sessions, innovative networking opportunities, incredible keynote speakers, a buzzing exhibition and fun social events, providing a unique convergence of networking, learning and fun.
NEAS was an exhibitor at the event and was pleased to meet with hundreds of professionals including education agents, ELT centre managers and products and services providers.
NEAS CEO, Dr Patrick Pheasant, conducted a workshop at the event titled 'Online and Transnational Delivery of English Language Teaching – Global Perspectives'. Presenting with him were Dr Alexander Nanni (Mahidol University International College), Dr Pamela Humphreys (Macquarie University) and Mr Jake Heinrich (RMIT Training). The session was well attended and highlighted the teaching and learning innovations of High Schools, Vocational Colleges, Universities, and English Language Centres in online delivery, English as a Medium of Instruction and Transnational ELT Delivery. Through a lens of quality management, the workshop also addressed how the impact of Australia's closed borders has affected social, cultural and economic barriers to international education.