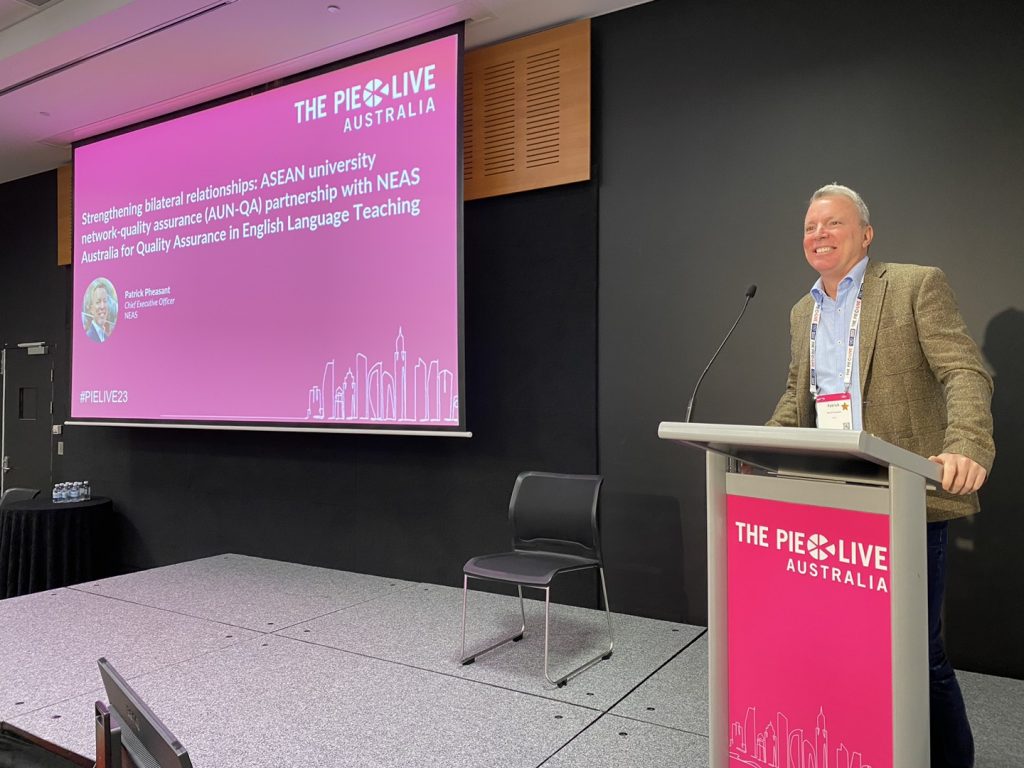 Dr Patrick Pheasant, NEAS CEO, attended the PIE Live conference held on the 24/25 July at the Gold Coast Convention  & Exhibition Centre.
Dr Pheasant's presentation on Strengthening Bilateral Relationships: ASEAN University Network-Quality Assurance (AUN-QA) Partnership with NEAS Australia for Quality Assurance in English Language Teaching was thought-provoking, with delegates hearing about NEAS' Australian and global partnerships. Participants enjoyed a showcase of the activities of Quality Assured centres on Australian shores as well as overseas.
The presentation also highlighted Professional Development provided by NEAS in recent times as well as other activities. These included the Vietnam, Thailand and Ukraine Online Workshop Series; Teacher Training Workshops at Mahidol University Thailand; Management Training at RMIT University Vietnam; Quality Assurance Workshops with the AUN-QA Secretariat; Presentation and paper at the APQN Conference; Presentation at VUS TESOL Management Conference; Sponsorhip at and presentations at CamTESOL; and Presentations at the APAIE.
At the core of Dr Patrick's message is the sentiment expressed by Michael Fay of the AFG Venture Group that "Quality and Quality Assurance must be in the DNA of the Institution". Quality assurance not only provides reassurance to government regulators, but is also vital for a country's attractiveness as an education destination; is important in Australia and the greater ASEAN/Asian region; provides valuable support and guidance to Education Providers; and improves the student experience.
July 2023