PRESS RELEASE – Tuesday 12 April, 2022
NEAS Australia and English Australia – Memorandum of Understanding (MOU)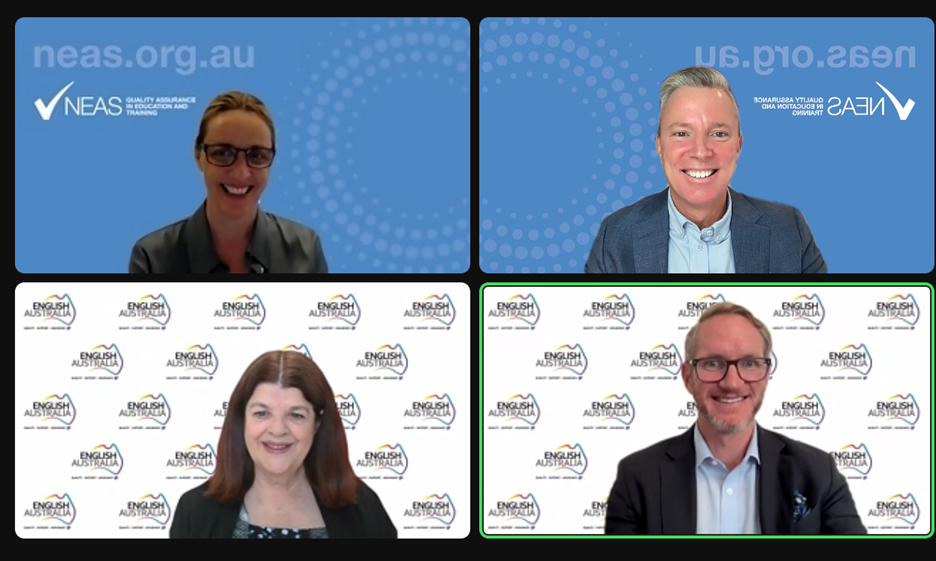 NEAS Australia is pleased to announce the signing of a renewed Memorandum of Understanding (MOU) with English Australia. The MOU was signed by NEAS Chair, Prof. Tanya Buchanan and English Australia Chair, Ms Kerry Sutcliffe on Tuesday 12 April 2022. NEAS CEO Dr Patrick Pheasant and English Australia CEO Mr Brett Blacker were also part of the online ceremony.
The MOU establishes the terms and understanding between NEAS Australia and English Australia to facilitate collaborative activities that are mutually beneficial for both organisations. The purpose of the MOU is to:
ensure a consistent understanding of what type of information the organisations can share and how this information should be used.
establish agreement on the most effective form of this information so it can feed into established regulatory systems.
clarify the relevant liaison officers to facilitate the relationship between the organisations and the exchange of information.
We are enthusiastic that this partnership will strengthen and advance the interests and activities of each organisation and continue to promote excellence in the English Language Teaching sector.