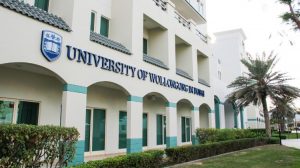 We are excited to announce that this year the English language programs at UOWD College celebrate 10 Years of NEAS Quality Assurance (QA).
Established in 1993, the University of Wollongong in Dubai (UOWD) stands proud as the first international Australian university to be established in the United Arab Emirates (UAE). Over the years it has gone from strength to strength.
UOWD College is one of the fundamental pillars of UOWD and delivers a range of fit-for-purpose English language courses to support students in achieving their target levels in International English Language Testing System (IELTS) and Occupational English Test (OET) assessments. Through the provision of high-quality English language courses, the College prepares students for real-world success in their academic and business endeavours.
A valued member of NEAS since its accreditation in November 2011, UOWD College notably delivers the following NEAS Quality Endorsed courses: Global English Skills (full-time program) and IELTS preparation courses.
Dr Debra McDermott, Director of UOWD College, said: "Celebrating a decade of NEAS Quality Assurance is testament to the integrity and quality of our courses and we are absolutely delighted to have maintained our accreditation for such a long period of time.
"The English language is a fundament skill for any student to progress in their academic journey and we value the support of NEAS in shaping the futures of the next generation."
It is with a great sense of honour that we at NEAS congratulate UOWD College for its milestone 10-year commitment to NEAS QA. Well done!
PRESS RELEASE: 17 MARCH, 2022