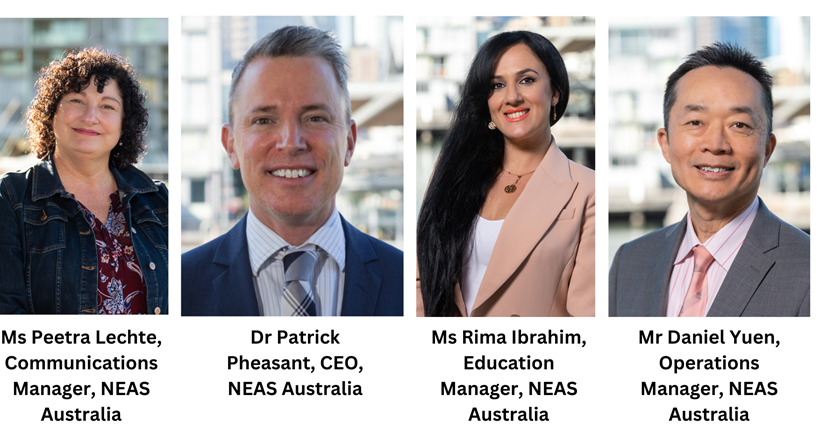 Dear Valued Quality Member,
This NEAS team update reflects on the last few months and as always, such a reflection provides us with the chance to throw a spotlight on our own practice and see what we are achieving and what's to come before the end of 2024!
NEAS continues advocating on all things "Quality" with regulators, government, and industry bodies for independent, industry-led and specialist Quality Assurance in English Language Teaching.
The impact of NEAS's advocacy efforts has been tangible, as evidenced by the growing traction and momentum within the industry. The influx of incoming students from overseas is on the rise, indicating a promising trajectory for the ELT sector. NEAS's continuous support for the ELT community through advice, information dissemination, guidance, and innovation has contributed significantly to supporting our members during this positive trend.
We thank the Australian ELT sector for being our stalwart supporters and are proud to share the news that the last three months has seen 35 ELT centres, individuals and agents pass their Quality Assurance activity with flying colours. The majority were ELT centres that underwent Quality Endorsement/Review, while others conducted Self-Assessment or attended Management Meetings. Our members have shown renewed enthusiasm for the NEAS process for practice improvement and we commend them for it wholeheartedly!
Onshore collaboration and partnerships have remained at the core of the NEAS strategy. We have maintained strong collaborations with prominent Australian stakeholders such as English Australia, University English Centres Australia (UECA), and others. Government departments and authorities, including the Tertiary Education Quality and Standards Agency (TEQSA) and the Australian Skills Quality Authority (ASQA), have also been key stakeholders in NEAS's pursuit of quality assurance.
NEAS CEO Dr Patrick Pheasant presented at the PIE Conference on the Gold Coast in July to promote the importance of Quality Assurance (QA) with his topic of Strengthening Bilateral relationships and in Sydney at the English Australia Conference in September on Homestay standards. Just last week we had a significant presence at The Australian International Education Conference (AIEC) where we exhibited, presented and hosted Braindates. We also took the opportunity to host an industry networking event to announce the new NEAS Homestay Standards Quality Area O: Homestay Service Provider. We were delighted to share this event with so many friends and colleagues from the ELT and Education sector in general. Furthermore our 2024 Professional Development Schedule is jam-packed with COP events, webinars, workshops and the conference, most of which are free, all of which are worth CPD points.
The team at NEAS regularly scrutinises the QA Framework and recognised the need for an additional area, namely Quality Area O: Homestay Service Providers. Together with extensive industry input this area is now being piloted with some early adopters. This is an exciting addition to the NEAS Framework.
Our cross-border collaboration has remained pro-active too and has been instrumental in fostering growth and innovation within the global ELT sector. We have grown our involvement with the ASEAN University Network (AUN) as well as other ventures overseas. Our Education Manager, Ms Rima Ibrahim, spoke at the GPEX summit in Malaysia and our Communications Manager, Ms Peetra Lechte, spoke at the VUS TESOL conference in Vietnam as well as at the AUN-QA conference in Thailand. Between us, we have recently visited a number of university ELT centres promoting QA activity and Australian Quality Standards for English Language Teaching in the Philippines, Thailand, Vietnam, and Malaysia.
The importance of NEAS's endeavours and its commitment to fostering connections among global ELT practitioners have been recognised and endorsed by notable figures in the education sector, as evidenced by mentions in prominent publications and podcasts, such as those by Claire Fields in the Campus Morning Mail and Tim Todd in The Australian Higher Education supplement.
The NEAS team, with guidance from the NEAS Board, NEAS Advisory Council and our members, is finalising the 2023 – 2026 Strategy to take us into the next phase of our important role in the ELT sector here and overseas.
As always, we thank you for your loyalty and commitment to QA and ELT and remain at your service. Please don't hesitate to contact any of the team directly, for any feedback or questions.
October 2023