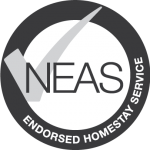 We are pleased to announce our special networking event at the Australian International Education Conference (AIEC) to celebrate the new Homestay Service Provider Standards: Quality Area O that we have co-developed with industry practitioners and stakeholders.
We cordially invite you to join NEAS Australia at AIEC for the:
Industry Networking Event for Homestay Service Providers and Stakeholders
Thursday 12 October at 12:30 pm
Should you be present at AIEC we would love to see you! – please be sure to register and join us by clicking on this link and inputting your details:
At NEAS, the team would like to thank all stakeholders for their enthusiastic participation in the virtual workshops and in-person forum conducted between May and August 2023. These encounters led to the formation of the Homestay Service Provider standards Quality Area O. You are welcome to view early adopters here and the standards here.
NEAS is a not-for-profit organisation and registered charity. We recognise that some Homestay Service Providers may continue to be adversely impacted by COVID-19. In acknowledgement of these challenges, we are developing special arrangements for businesses wishing to apply for Quality Endorsement, that are not in a position to pay the application fee. Please contact NEAS if you wish to discuss a tailored solution to support your business.
If you would like to stay connected and be informed of our Industry Networking Event for Homestay Service Providers and Stakeholders and all our other activities throughout the year, please sign up to our free e-newsletter here.
We look forward to seeing you at AIEC!
September 2023