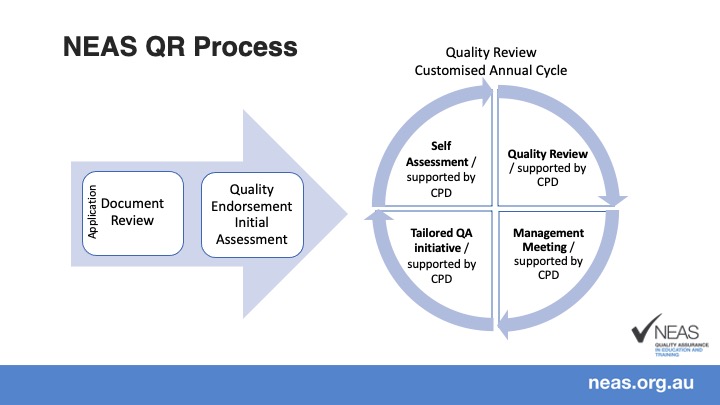 The NEAS quality review cycle has undergone a transformative evolution from a static two-year model to a dynamic ongoing annual structure, reflecting a profound commitment to continuous improvement. Previously, the cycle encompassed a biennial process involving a Quality Review and a Self-Assessment. This approach has now evolved into an agile and adaptable framework, with a quality review cycle that embraces an organic rhythm and risk-based model, incorporating Management Meetings and a diverse array of tailored Quality Assurance activities. These refinements are driven by a nuanced understanding of members' specific requirements and sector-wide risk assessment.
This shift empowers NEAS to remain attuned to the dynamic landscape of education and training, fostering a culture of flexibility, responsiveness, and proactive enhancement. The inclusion of Management Meetings bolsters the tracking of progress, issue identification, and swift remediation if and where necessary. This more adaptable nature of Quality Assurance activities ensures that each member's distinct needs are addressed, nurturing a more customised approach. By remaining abreast of sector-wide risk assessment, NEAS ensures that the quality review cycle is aligned with broader industry trends and challenges.
At NEAS we feel that this approach maintains our position as a vanguard in quality assurance in ELT, equipped to navigate the ever-evolving educational landscape effectively.
August 2023