This year's NEAS Management Conference brings us a lot of diversity with speakers from all areas of the ELT sector. This week we are throwing the Spotlight on Education Agents and those who work closely with agents from schools, colleges and English Language centres, as they all play a significant roll in bringing English language students to our Australian shores.
At the conference there will two discussion panels where there will be a focus on Education Agents and the importance of the work they do.
At the In Focus: Education Agents session with: Sylvain Lolley, Melanie MacFalane and Guaravdeep (GD) Signh, agents will talk about their work in helping students choose education institutions to suit their needs.
At the COP Workshop: Education Agents session, with Gavin Dowling, Shirley Sun, Youngeun Song and Leisl Bruhn who are from different education establishments around Australia you will hear insights into the importance of Education Agents and their important role in student recruitment.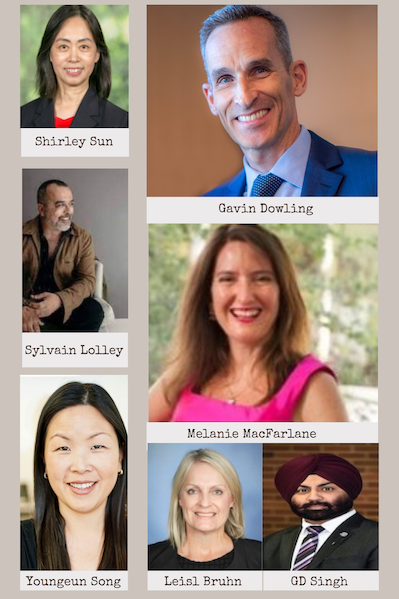 Melanie MacFarlane
Melanie Macfarlane is a registered and practising Migration Agent with over 17 years' experience securing visas for migrants to live, work and study in Australia. She has worked with individuals, families and employers from small to large-scale businesses, all with the same common goal – to explore new opportunities and create a happy world, one migrant at a time.
Melanie founded MMMigration & Recruitment and VETA Education & Migration in 2007 and has since grown the company to offices across 3 states in Australia as well as Colombia, Chile and Mexico. At MMMigration and VETA the team reduces the stress and confusion from the migration process, ensuring peace of mind and positive outcomes.
Sylvain Lolley
In 2016, Sylvain Lolley founded Catch-Up Education and offer numerous education opportunities to people of all ages, backgrounds and origins.
After more than 20 years in the Pacific (Tahiti, New Caledonia) in the marketing and communication sector, Sylvain joined the education sector by becoming Sales Manager for a French-speaking education agency based in Sydney, Australia. When he created Catch-Up Education in 2016, Sylvain already had a strong network of contacts within the industry. In 2019, Catch-up Education joined ICEF as an education agency and in 2020, Catch-up Education received the KISS Rock Award from ILAC Canada for the quality of its services to students and its involvement during the Covid-19 period. The same year, Sylvain received the Quality Agent endorsement from NEAS and Sylvain believes this distinction is a guarantee of seriousness and quality for any support agency.
Guaravdeep (GD) Singh
Guaravdeep (fondly known as GD) is the CEO & MD of Apply 4 Study & also the Representative of Migration Alliance, (Australian Professional Lobby for Migration Practitioners) for Indian Subcontinent & Australian Education Sector. I have been working in Education Industry for over 18 years & have rich experience at Senior level management, particularly in areas of HRM, Training, Migration Law & Marketing.
GD's key areas of focus are global expansion, brand building, collaborations, acquisitions & mergers. Finalist at Australian Business Champion awards, winner of the Best Inbound Education Consultancy by Corporate Vision, AI Publishing UK, winner of CEO of the Year 2022 Skill India Business Awards, New Delhi India & an eminent Indian Australian entrepreneur figure in Global education space.
COP Workshop: Education Agents
Leisl Bruhn
Leisl is the Dean of International Students at Ivanhoe Grammar, which includes being the Academic Manager of the ELICOS Program, teaching VCE EAL and pastoral care responsibilities for the School's international students. Leisl began her teaching career in the East End of London and for the past 6 years she has held the very rewarding position as EAL Mentor for Ivanhoe's VCE Offshore Programs which has given her the privilege of working alongside and sharing EAL teaching practices with highly experienced and professional colleagues. Leisl is also Convenor for the Education Agents COP at this year's NEAS Management Conference.
Shirley Sun
Shirley was appointed the Head of St John's International College in 2006. Prior to the Head of College position, she was the Marketing Manager as well as a teacher within the college, then known as Forest Lake College.
Shirley has been working closely with education agents for more than 20 years. Due to the age of the high school students, she has to delve deeper into the complexities of connecting the agents with the parents.
Youngeun Song
Youngeun is Principal Executive Officer of APC Education Group currently comprises English Unlimited and Australian Pacific College and is responsible for overseeing the operation and strategic movements for the group.
Youngeun started her career in education as owner director of a childcare centre in Seoul, South Korea. Since arriving in Australia 2003, Youngeun has been taking on multiple management and executive roles in the international education industry for private ELICOS centres and Vocational Education and Training colleges.
APC Education Group is a multiple award winning private education provider that has been operating since 2004 and currently operates 13 campuses on the eastern seaboard and South Australia.
Gavin Dowling
Gavin is Chief Operating Officer at Education Centre of Australia, responsible for university partnerships, marketing, admissions, sales, HR, IT and the colleges within the ECA Group.
He has more than 20 years' experience in the international education sector in the UK and Australia with significant experience in student acquisition, strategic management and leadership.
After an earlier career working in marketing agencies for a broad range of clients in London, he moved into the high growth international education sector in late 1990's working for small and large organisations; consulting; and establishing and running two successful education marketing businesses.
March 2023