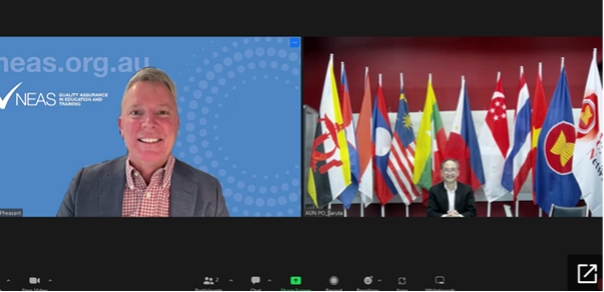 On 18 January 2023, Dr. Choltis Dhirathiti, ASEAN University Network (AUN) Executive Director and Dr. Patrick Pheasant, Chief Executive Officer of NEAS Australia (National ELT Accreditation Scheme Ltd.), signed a Memorandum of Understanding (MoU) to advance towards effective enhancement of the process as well as the management of quality assurance (QA) of English Language Teaching (ELT).
The Signing Ceremony of the MoU between NEAS and AUN Secretariat took place through a virtual meeting. The MoU seeks to empower possible collaboration between NEAS and AUN as both parties will delve into QA activities and QA among ELT providers, as well as provide opportunities for the professional development of working staff to learn from one another and foster the exchange of best practices. The MoU is initially set to be in force for two years.
Currently, NEAS and AUN have initiated a potential project exclusively for the ASEAN University Network to explore and enhance the capabilities of English Language Teaching Units/Centers across the ASEAN region. This aims to ensure the active roles of university ELT Units/Centers that go beyond "English Teaching." The initiatives cover more contemporary functions such as standardising English for research papers, English as a medium of instruction, English in the delivery of interdisciplinary courses, English pathways for international mobility programmes, etc. It will ultimately lead to the advancement of QA in English language learning.
The MoU signing ceremony between NEAS and AUN was a momentous occasion as it marked the first official collaboration between AUN and Australia. This will signify the beginning of the growth of QA in English language learning and designate the direction to steer English language teaching communities forward.
02 February 2023