We are excited to announce the 2024 NEAS Management Conference with the theme:
Quality Revolution: Rethinking, Reshaping, and Redefining Excellence in ELT
This year's theme challenges the traditional notions of quality assurance in English Language Teaching (ELT), management, and leadership, urging participants to envision and drive a paradigm shift in how we perceive and ensure excellence in English language education.
The theme also encourages a deep dive into innovative approaches, disruptive strategies, and transformative frameworks that redefine quality assurance practices. It aims to inspire provocative discussions, ignite change-driven thinking, and propel participants towards reimagining and reshaping the future of ELT quality assurance.
This year's exclusive two-day event will feature over 40 speakers from around the world, presenting workshops, plenaries and panel discussions. There will also be multiple social and networking events.
Day 1: Academic Manager Workshop – May 9, 2024 is dedicated to the Academic Manager Workshop.
Day 2: Plenary Sessions and Panel Discussions – May 10, 2024 features both Plenary Speaker sessions and Panel Discussions.
NEAS is excited to invite professionals and experts in the ELT field to express their interest in presenting at the NEAS 2024 Management Conference. As we focus on the theme we welcome three distinct types of presentations: Academic Manager Training Workshops, Main Plenary Speaker sessions, and Panel Discussions.
Conference Day 1: 9 May 2024, is dedicated to the Academic Manager Workshop. Potential speakers are encouraged to select from a range of topics, offering valuable insights into ELT management practices.
On Day 2: May 10 2024, Plenary Speakers are invited to submit abstracts for their sessions. Panelists have the option to choose the panel topic they wish to participate in, or propose a topic of interest for our consideration. This engagement fosters thought-provoking discussions and deepens our comprehension of the ever-evolving ELT landscape.
The focus questions for the event are:
How can we redefine and measure excellence in ELT beyond traditional quality assurance methods, taking into account innovative approaches and revolutionary strategies?

What role does leadership play in driving the Quality Revolution in ELT, and how can leaders inspire change-driven thinking among educators and institutions?

What transformative frameworks and best practices can be explored to reshape the future of ELT quality assurance, ensuring it remains relevant in an evolving educational landscape?
Please find the Call for Abstracts Application form here.
Applications close on Friday 27 October 2023.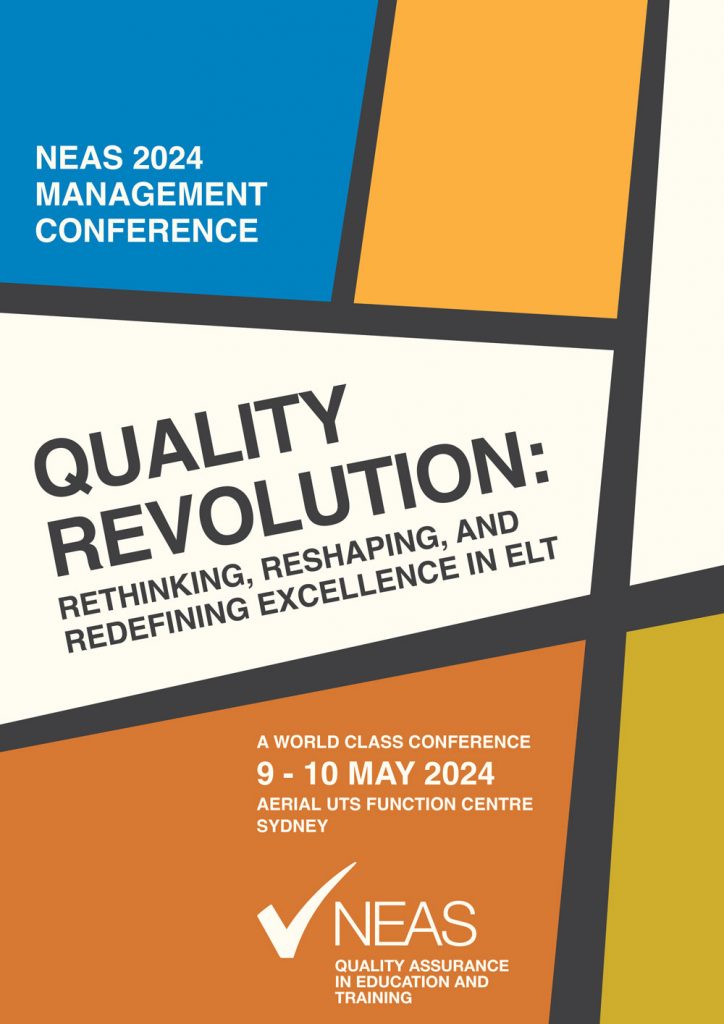 There are a variety of conference sponsorship packages available with options for exclusive conference event sponsorship such as the luncheon and awards ceremony.
It is our aim to work efficiently with you, by helping and promoting your business to achieve international exposure through sponsorship of the NEAS conference. We work with our sponsors in the lead up to the conference and look forward to seeing them in Sydney in May 2024 for our 27th annual conference.
To peruse sponsorship packages unique to your organisation please find the 2024 prospectus here.
October 2023