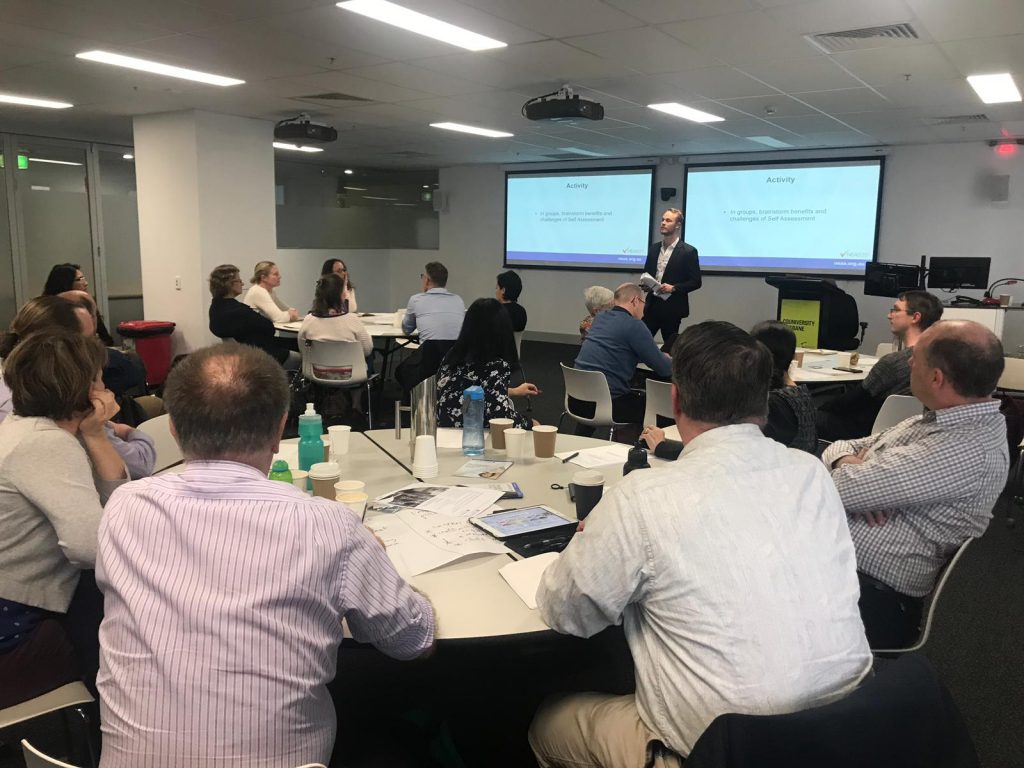 How much PD do you organise for your staff?

Teachers are lifelong learners. All staff who work at an education provider value and engage in learning and teaching on a day to day basis. NEAS recognises that professional development of all staff is an essential element in the continuous improvement of an educational provider.
Professional development gives teachers and professional staff the opportunity to reflect on their practices, skills and knowledge. It also challenges ones long-held assumptions and beliefs, providing fresh ideas and introducing innovations in an environment which never stands still. As part of our quality assurance services to the ELT community, NEAS offers a range of Professional Development services for all staff including our annual Conference, NEAS Online and QLS workshops and webinars.
In addition, our experienced team are happy to deliver customised workshops at your centre. For more information, visit our professional development page or contact us
Welcome Lynda Beagle and Peetra Lechte to the NEAS team.
We would like to introduce two new NEAS Quality Assessors – Lynda Beagle and Peetra Lechte who will assist in assessing our endorsed centres in Melbourne.
Communities of Practice
Communities of practice are "groups of people who share a passion for something that they know how to do and who interact regularly to learn how to do it better" Étienne Wenger, 1998. NEAS invites you to engage in regular interactions with your peers by participating in one of the communities of practice featured at the 2020 NEAS Management Conference.
Learn about new things or how to do things better and meet others who share interests and experiences not unlike yours. Follow NEAS on facebook, linkedin and twitter and subscribe to NEAS News to find out more.
Click here to for more information on the conference
NEAS Professional Development
QLS Workshops 2020 Registrations are now open!
Registrations for workshops for Teachers, Academic Managers and ELT Professionals are now open for 2020!
What is the Quality Learning Series?
The NEAS Quality Learning Series workshops are designed to provide professional development to both ELT teachers and managers using expert advice based on the Quality Assurance Framework.
Workshops are three hours in length and conducted at our member centre locations around the country. NEAS QLS workshops are free for all staff of Quality Endorsed Member Centres and Associate Members.
.
Abstracts are now closed
Thank you to everyone who submitted your abstracts by the 8th November. We are now carefully reviewing the submissions and will let you know if you are accepted into presenting at the NEAS 2020 Management Conference.
Early Bird Group Tickets are open!
Industry News
Promoting Australian ELT Internationally
NEAS receives funding from the Australian Government through the Export Market Development Grant each year to promote the quality of Australian English Language Teaching internationally. This year NEAS attended ICEF Berlin at the end of October 2019, alongside many of our high-quality members such as Australia International College of English, Cairns College of English, Cairns Language Centre, International House, Tasmanian College of English, Times Academy, Embassy, Kaplan, ILSC, ELS and Education First.
ICEF Berlin is an important forum for increasing the visibility of our members amongst agents, and our CEO Patrick Pheasant attending the event met with industry stakeholders and key agencies to promote working with NEAS-endorsed centres.
Patrick also attended the annual symposium of QALEN – the global network in quality assurance for the English Language Teaching (ELT) sector. NEAS is a founding member of QALEN, held for the first time in Sydney Australia at the NEAS Management Conference in 2014. This year, the symposium was held in Manchester, United Kingdom and provided an opportunity to benchmark the NEAS standards against other ELT standards from Canada, the UK, New Zealand, Malta, and South Africa. This process endures that NEAS members are benchmarked internationally against the highest standards of quality. The process also ensures that the quality assurance systems and processes of NEAS Australia are thorough, transparent, independent and credible – a hallmark of global leadership in Quality Assurance in ELT.
NEAS Endorsement News
ANCE
Homesglen English Language Centre
Tasmanian College of English