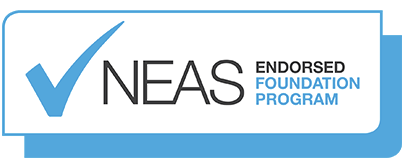 Demonstrate your commitment to teaching excellence and delivery of trusted education outcomes in your Centre's Transitional Delivery or Foundation Programs by achieving NEAS Quality Endorsement.
NEAS launched its purpose-designed Quality Areas in Transnational Delivery and Foundation Programs in 2022, after extensive consultation and trialling.
NEAS advances global Quality Assurance by supporting transnational education providers that offer offshore Academic and English language pathway programs. Congratulations to UOW College Australia for being the first NEAS Centre to be Quality Endorsed in the Transnational Delivery category.
Foundation Programs play a vital role in preparing students for success in higher education and beyond. Congratulations also to Aspire Institute and Macquarie University College for successfully completing a special pilot initiative in 2022 for the Quality Endorsement of their Foundation Programs.
There is no better way to differentiate yourself in a competitive market than by attaining the NEAS tick of Quality Assurance. Trusted by international education for over 30 years, NEAS supports your Centre in providing evidence-based proof of innovation and distinction. Speak to NEAS about Quality Endorsement of your Centre'sTransitional Delivery or Foundation Programs by contacting our Operations Manager, Daniel Yuen, on: d.yuen@neas.org.au.
02 February 2023