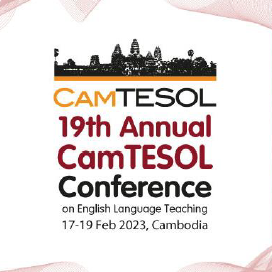 The 19th Annual CamTESOL Conference at the Institute of Technology of Cambodia starts tomorrow and NEAS Australia will be there! This is one of the most significant conferences in the region with over 1000 participants and its theme of "Online and Transnational Delivery of English Language Teaching – Global Views and Perspectives for Being Future Ready" is set to stimulate interesting debate.
The opening Plenary Panel Discussion is sponsored by NEAS Australia and Dr Patrick Pheasant, as part of the panel, will be focusing on Online and Transnational delivery of English Language Teaching (ELT). Through a lens of quality management, this keynote plenary will showcase teaching and learning innovations in High Schools, Vocational Colleges, Universities, and English Language Centres in online delivery, English as a Medium of Instruction (EMI) and Transnational ELT Delivery from Thailand, Vietnam, Malaysia, Cambodia and Australia, identifying global best practice. The plenary will also address how the impact of closed borders during the pandemic has affected social, cultural and economic barriers in international education. In many cases virtual learning, virtual mobility and improved technology have become conduits for learners to access quality international education. Now, it is important to secure the quality of Online and Transnational delivery in ELT and by embedding 21st Century skills into our programs and turbo-charging such skills to meet the needs of future generations, Dr Pheasant asserts that we can be future-ready.
In the role of Chief Executive Officer, Dr Patrick Pheasant brings 30 years' experience in applying drama, TESOL and teacher training methodologies across multiple education sectors around the world. Patrick has extensive experience in change management and leadership development and completed his PhD research at the University of Sydney in using process drama in ELT. Patrick is a past Director at the University of Sydney Centre for English Teaching, past Vice-President of the University English Centres of Australia (UECA) and past Convenor of the NEAS Advisory Council.
February 2023