NEAS Australia is continuing to support our members and the ELT Community during COVID19 with a clear message and purpose: we have a plan, and we will get through this together. Thank you to our members, partners and stakeholders who have in turn supported NEAS.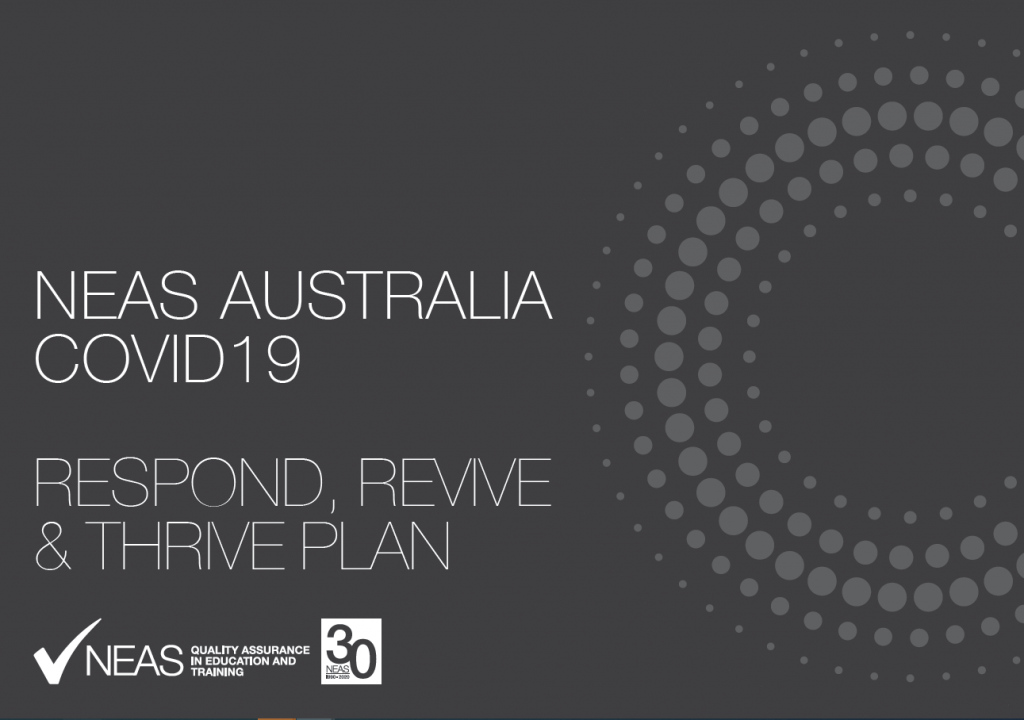 We are pleased to release the NEAS Respond, Revive and Thrive Plan and would love your feedback. This plan maps out how NEAS will work with the ELT community over the next 18 months as we get through this together. We aim to transform NEAS to be ready to support a transformed community. We wish to ensure that Quality Assurance is at the forefront of our rebuilding our community, embedding best practices in QA throughout. This Respond, Revive and Thrive Plan complements our 2020-2023 Strategic Plan.
We invite you to have a look at our plan and let us know your feedback.
IELTS has launched online test: IELTS Indicator
IELTS has launched IELTS Indicator, an online English language test for students not able to attend an IELTS test centre due to the Covid-19 related restrictions.
The Indicator test will be available in selected locations where it is not currently possible to deliver in-person IELTS testing.
For education institutions IELTS Indicator is a great way to gauge the English skills levels of your prospective students across Listening, Reading, Writing and Speaking.


NEAS Online Health Check
At the beginning of 2019, NEAS published Quality Area H: Online Delivery. These Quality Principles are aspirational in nature and can be used to drive continuous improvement in the online learning space.
With the COVID-19 pandemic forcing a rapid shift from face-to-face to online learning for an indeterminate period of time, NEAS has prepared a Health Check activity for online delivery.
The Health Check may assist members to evaluate their response so far and begin to map out a path of continuous improvement. The Health Check is a Self-Review activity comprising a series of questions aligned with the Quality Principles of Area H.
Bookery Digital Resources
During this crisis, Bookery is endeavouring to remove the pain and stress from remote teaching by finding the best resources to help educators during this time.
Working with publishers, Bookery has sourced the best array of eBooks, presentation tools, and digital resources to take away some of the hardship of being out of the classroom.
The attached case study describes how GEL helped International House Palermo convert from a classroom-based school to a complete online school while maintaining its effectiveness and unique identity during Covid-19.
GEL provides blended learning to some of the biggest and most prestigious EFL organisations in the world. Clients include EC English, ELS Language Centers, and the British Council.
NEAS Job Board
Need to post a position in your organisation? NEAS Members can post positions on the NEAS Job Board at no cost. This is a great and easy way to get extra exposure for both the position and your organisation.

Don't hesitate, post now!
NEAS Associate Membership
NEAS Associate Membership affords you a full range of benefits including exclusive Professional Development (PD) activities that tick all the boxes. Encourage fellow colleagues to enjoy the following benefits:
Access to NEAS News
Face-to-face Quality Learning Series (QLS) courses
Online learning courses
Assessment of Qualifications
Discounted annual NEAS Conference tickets
NEAS is committed to the professionalisation of the ELT industry.
Annual membership fee: $250 (tax deductible)
Memorandum of Understanding ​with ASQA and TEQSA
We are pleased to announce the signing of a renewed Memorandum of Understanding (MOU) between NEAS and the Australian Skills Quality Authority (ASQA). The MOU was signed by NEAS CEO, Dr Patrick Pheasant and ASQA CEO and Chief Commissioner, Saxon Rice on Monday 20 April.
The MOU establishes the terms and understanding between NEAS and ASQA to facilitate collaborative activities that are mutually beneficial for both organisations. The purpose of the MOU is to:
ensure a consistent understanding of what type of information the organisations can share and how this information should be used;
establish agreement on the most effective form of this information so it can feed into established regulatory systems;
clarify the relevant liaison officers to facilitate the relationship between the organisations and the exchange of information.
We are enthusiastic that this partnership will strengthen and advance the interests and activities of each organisation, and continue to promote excellence in the English Language Teaching sector.
NEAS Professional Development
How is Professional Development related to Quality Assurance?
In an educational setting, the key expectation from stakeholders is quality outcomes for students, particularly learning outcomes. Examples of quality assurance in an ELICOS environment include having a process in place for collecting, evaluating and acting upon student feedback, developing a consistent approach to assessment across all courses, and checking that all teaching staff have the right qualifications and experience.
Providing access to relevant professional development for all staff is an essential part of engaging in quality assurance processes. For example, in developing a consistent approach to assessment, professional development for all academic staff in assessment best practices ensures that everyone understands and has input into the agreed assessment practices at the centre.